Volunteering opportunities
How you can support us
We currently have the following volunteering opportunities available.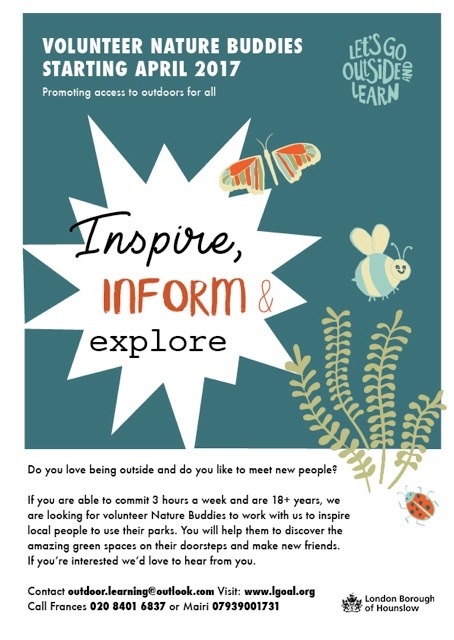 "Nature Buddies" will seek to open a window for older people at risk of isolation who do not currently visit natural outdoor environment. The Nature Buddies will provide regular support to groups during walks and activities in their local parks and open spaces, and encourage and recruit people to the project. They will help to deliver key messages and promote the benefits to health and well-being, making new friends, outdoor learning and environmental stewardship. They will be one of a network of Nature Buddies.
If you are interested in becoming a Nature Buddy please see the role description for further information. Nature Buddy
Specialist advisors We want develop the specialist advisory board to the board of directors. We recognise that the most effective organisations are ones which benefit from individuals from a diverse range of backgrounds, experiences and skill sets. Specialist advisors guide the direction of the organisation and ensure that we fulfil our duty to beneficiaries and deliver our vision and values to promote access to outdoor environments for all. Specialist Advisor
We have opportunities for freelance teachers to support our Environment Clubs. Please contact outdoor.learning@outlook.com for more information.